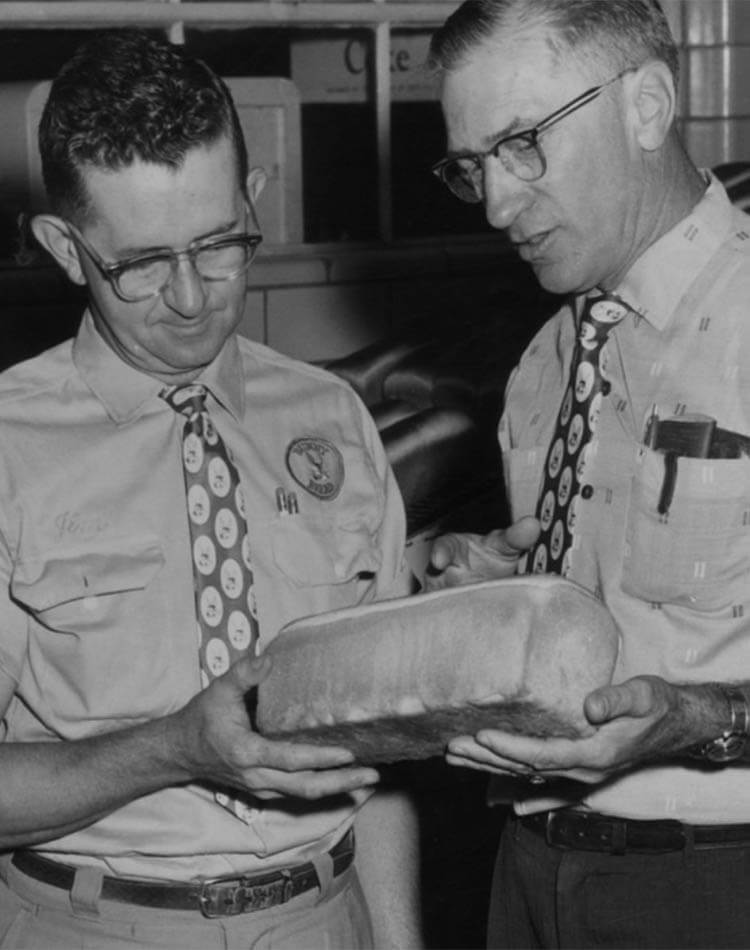 Who We Are
With five bakeries in Evansville, Indiana; LaPorte, Indiana; Ft. Wayne, Indiana; Vincennes, Indiana; and Murfreesboro, Tennessee; and its headquarters in Evansville, Indiana, Lewis Bakeries employs 2,000 people who provide fresh bakery products in 17 states. Lewis Bakeries' aim has always been to produce the best bakery products and respond to consumers' needs.
Our Mission
At Lewis, we RISE every day to bake bread for our consumers that exceeds their expectations.
Roots – Our culture is built around a proud company history and family legacy of quality baking. We will always remember, "Grow or Go!"
Integrity— We're committed to doing the right thing. To be a sustainable, responsible company with work and food safety as our top priorities.
Service— We strive to provide the highest quality professional service to exceed our customers' expectations.
Excellence— Our goal is to provide the very best bakery products with a forward-thinking passion for growth and innovation for our company and our products.
Corporate Responsibility
We are committed to applying the principles of sustainability in all aspects of our business which we share more about in our Corporate Responsibility. Our bakeries comply with Amfori BSCI to ensure fair establishment and improvement of workers' rights, workplace conditions and an effective management system as well as BRC to ensure food quality and safety.
Lewis Bakeries, Inc. is supportive of efforts to improve animal welfare and is committing to sourcing 100 percent cage-free eggs by 2025. Currently, a very limited number of Lewis-produced bakery products contain eggs as ingredients.
"The yardstick of success is not the money you make or the money you have, it's what you've accomplished."
— R. Jack Lewis, Sr.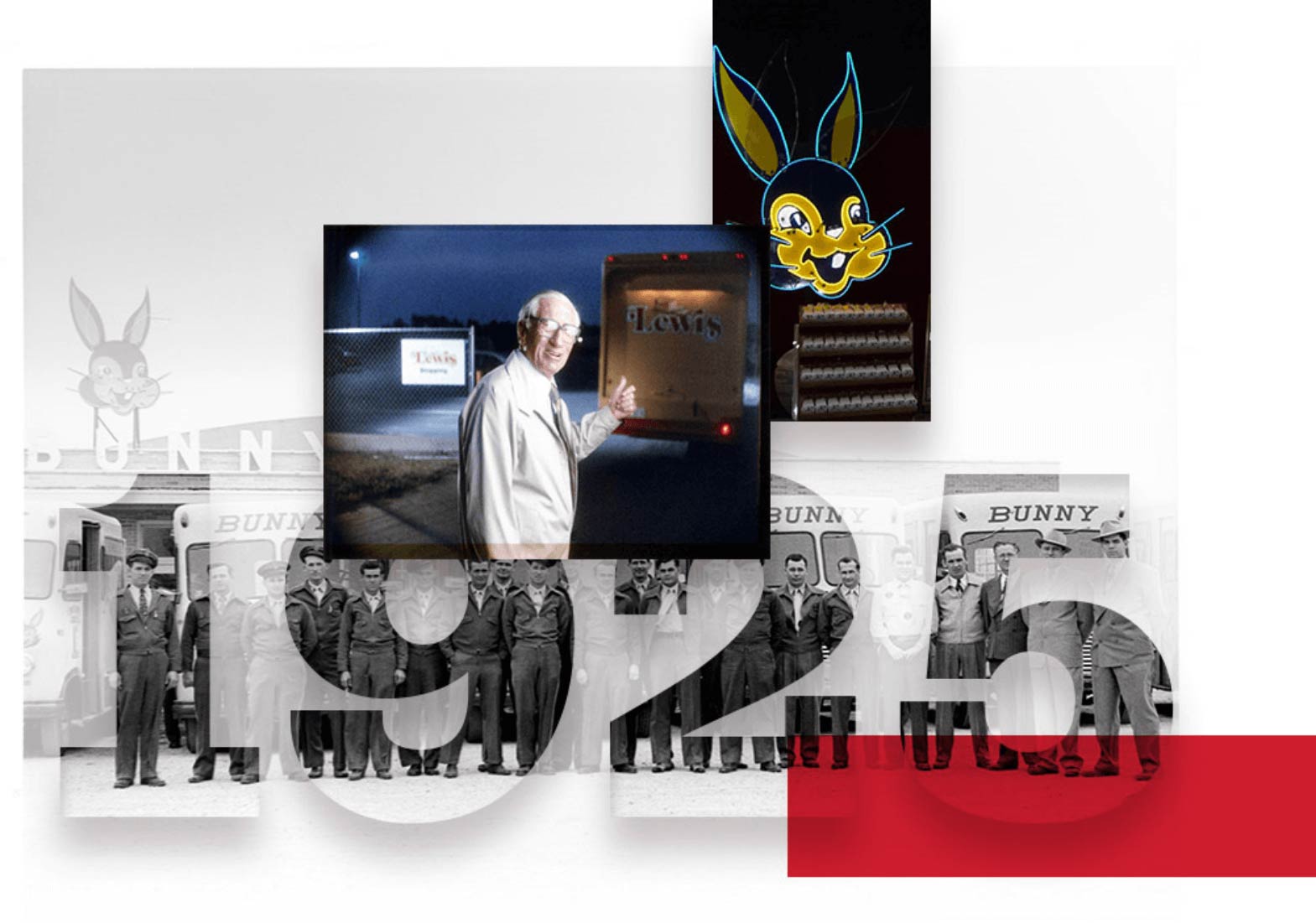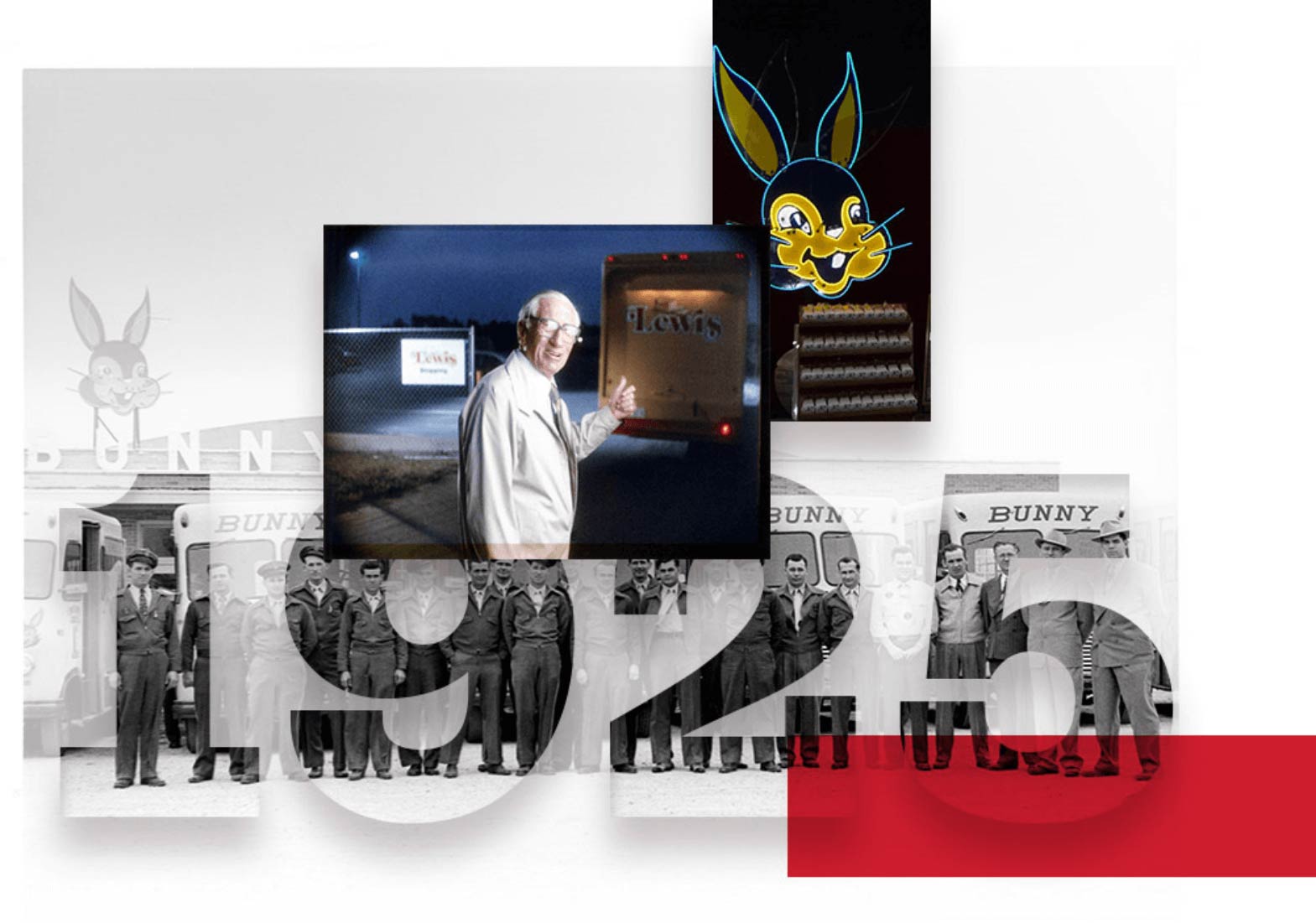 Lewis Bakeries – Success Through the Years
Take a step back in time with us to learn how Lewis Bakeries grew into the industry leader it has become today.
A Family with a Dream
In 1925, three determined brothers borrowed $300 against their mother's home and rented a cabin to open a bakery in Anna, Illinois. The bread baked by Amos, Armold and Jack Lewis was delivered daily by Ford Model T trucks to individual homes nearby. When resources were scarce, the brothers used each day's profits to purchase flour for the next day's bread.
Over the next 20 years, the brothers established the Lewis family as the bakers of choice in the region, and saw achievements such as ownership of bakery buildings, equipment and delivery fleets.
By 1947, Lewis Brothers' Bakery operated 12 delivery routes, employed 50 people and produced 75,000 loaves of bread weekly. Through community involvement and quality job creation, the Lewis family helped shape the history and economic development of communities where their bakery facilities operated.
The Bunny Boom
Company growth continued into the 1950s, thanks in part to R. Jack Lewis Sr.'s creation of a brand now synonymous with freshly baked bread in Midwestern households. The name "Bunny Bread" originally derived from the image of a bunny featured on loaves of Lewis Brothers' Butternut.
"Bunny became so popular and well known through the entire territory that consumers began to call for 'Bunny' bread and the decision was reached that the trade name Bunny should be used on Lewis Brothers' Bakery products."
— The Gazette Democrat, 1952
The rising popularity of Bunny Bread, along with its memorable cartoon rabbit and catchy slogan — "That's What I Said, Bunny Bread!" equaled more great success for the Lewis family, which they in turn invested in automation and facility expansion.
During this era, the company was led primarily by R. Jack Lewis Sr., a man well known for his "infectious enthusiasm, determined efforts, and faith in himself, his country and in his people," according to those who honored him in the business community at the time. Lewis, Sr. was well known for his words of wisdom, some of which included "you have to grow or go."
Rising Today
Under the more recent leadership of the next member of the Lewis family, R. Jack Lewis Jr., the company's sales reached into multiple states. In the 1980s, Lewis Bakeries began expanding its brands tremendously by tracking consumer trends and using emerging nutrition research. This led to innovations and product developments including:
Becoming the first bakery to remove trans fats from all its products in 1987
In 1991, the first fat-free reduced-calorie bread, Healthy Life
Debuting the market's first half loaf, Baby Bunny 1/2 Loaf, in 1999
Bringing the first carb-dieting bread to the market with Healthy Life in 2000
Introducing the convenient Lewis 1/2 Loaf, 1/2 Packs and 1/2 Pack Rolls
As of 2019, H. Dean Short, the grandson of R. Jack Lewis Sr., serves as company president, and Lewis remains one of the few independent wholesale bakeries in the Midwest, looking forward to serving generations to come.